Well, among the pineapple home Spongebob and Patrick's rock, there is a Moai statue, which was none other than Squidward home.
Squidward is a kind of People(tentacles) who is perfectionist and irritable.
Spongebob considers Squidward tentacles his best neighbors, but not with Squidward!
Squidward likes to play clarinet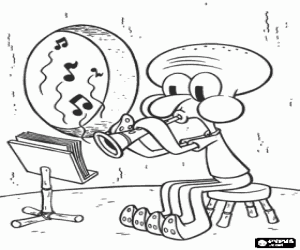 Squidward tentacles are most resentful to Spongebob!
Though in his heart, he likes spongebob and patrick, but the high esteem which makes wont to admit it!
Squidward becomes a rule-bound character of physics, and do not believe in silly things.